這款薯片用上如鑽石般矜貴的白松露,加上健康海塩精製而成,所以香氣更濃風味更佳。
This product contains white truffles and sea salt which feature more intense aroma and the flavor.
運送 Shipping
只送往香港本地
Hong Kong local delivery only
成分 Ingredients 
馬鈴薯, 葵花籽油, 1.1%松露乾(等同5%新鮮松露), 1% 夏松露乾(Tuber Aestivum Vitt), 0.1%白松露乾(Tuber Magnatum Pico), 0.2%海塩, 調味料 可能含有微量穀物中麸質及其産品; 也可能含微量牛乳及其産品(包括乳糖)
Potatoes, Sunflower Oil, 1.1% Dried Truffle (equivalent to 5% fresh truffle), 1% Dried Summer Truffle (Tuber Aestivum Vitt), 0.1 %Dried White Truffle (Tuber Magnatum Pico), 0.2% Sea Salt, Flavouring. May contain trace of cereals containing gluten products thereof, milk and products thereof(including lactose)
原産地 Country of Origin
意大利 Italy
生産商 Manufacturer
Tartufi Jimmy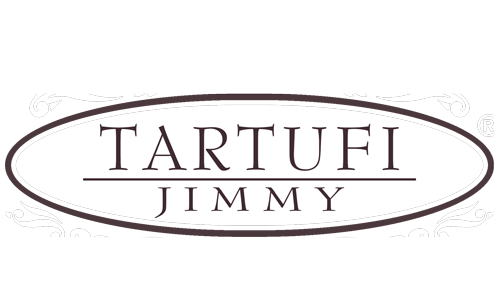 海塩白松露薯片
White Truffle & Sea Salt Potato Chips
原材料:
馬鈴薯
葵花籽油
1% 夏松露乾
0.1%白松露乾
0.2%海塩
調味料
Ingredients:
Potatoes
Sunflower oil
Dried Summer Truffle 1% (Tuber Aestivum Vitt)
Dried White Truffle 0.1% (Tuber Magnatum Pico)
Salt 0.2%
Aroma
脂肪 Fat
胞和脂肪 of which saturated
碳水化合物 Carbohydrates
糖 of which sugar
溫布利亞
意大利的緑色心臓
Umbria
The green heart of Italy
溫布里亞是意大利的緑色心臓:其領土上到處都是公園, 保護區和自然保護區, 適合探索和探險之旅。 得益於其樹木繁茂和丘陵的表面, 它保存了許多世紀以来珍貴的多種松露。 植物群, 動物群, 水道, 湖泊和地質分層, 所有元素都代表了這個世界上這個独特地區的精髓。
Umbria is the green heart of Italy: its territory is full of parks, protected areas and areas of naturalistic interest, suitable for discovery and adventure tours. Thanks to its wooded and hilly surface it has preserved precious truffles of many varieties for centuries. Flora, fauna, waterways, lakes and geological stratifications, all elements that represent the essence of this unique region in the world.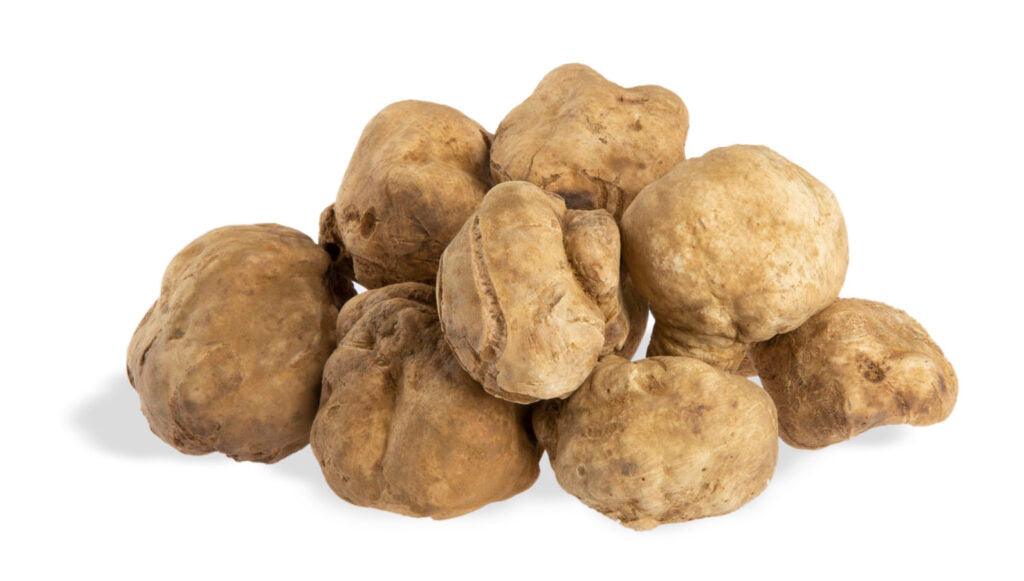 白松露
White truffle
TUBER MAGNATUM PICO
它是卓越的松露, 以其特性而聞名世界:它散發出的濃郁香氣和極其細膩的味道。 它呈赭黃色, 具有光滑的外皮和榛子色的果肉, 帶有細條的白色紋理。
收成期:9月底至12月31日。
用途:最好是新鮮食用, 直接切片放在盤子上, 最好以最自然的方式品嚐這種珍貴白松露的所有味道。
共生植物:橡樹, 楊樹, 柳樹, 酸橙, 榛樹, 角樹, 軟橡樹, 杜松, 掃帚和荊棘。
It is the truffle par excellence, the most prized and known all over the world for its characteristics: the intense aroma it emanates and the extremely delicate taste. Ocher yellow in color, it has a smooth rind and a hazelnut-colored pulp with thin white veins.
HARVEST PERIOD : from the end of September to December 31st.
USE : preferably raw, sliced ​​directly on the dishes, better if not too elaborate to savor all the taste of this precious tuber in the most natural way possible.
SYMBIOTIC PLANTS : oak, poplar, willow, lime, hazel, hornbeam, downy oak, juniper, broom and thornbush.
黑松露 Black Summer Truffle
TUBER AESTIVUM VITT
它是意大利烹飪傳統中最常用的松露。 它在黑色時期有一個層非常結實的樹皮。 它有一種微妙的香味和味道。
收成期:6月1日至8月31日。
用途:適用於任何菜餚。 如果新鮮食用, 最好切成薄片, 如果熟食則可以磨砕。 廣泛用於製備果凍, 釀意大利面, 肉捲, 調味醬。 只需在一片新鮮麺包上切成薄片, 再加上特級初榨橄欖油和一小撮塩, 就可以了。
共生植物:橡樹, 角樹, 榛子, 松樹。
It is the most used truffle in the Italian culinary tradition. Its black period has a very warty bark from which the name "Scorzone Estivo" also derives. It has a delicate fragrance and taste, solar like the season in which it grows.
HARVEST PERIOD : from 1st June to 31st August.
USE : suitable for any dish. Preferably sliced ​​if used raw and grated if cooked. Widely used in the preparation of jellies, stuffed pasta, meat rolls, sauces for condiments. Excellent simply in thin slices on a slice of fresh bread with the addition of extra virgin olive oil and a pinch of salt.
SYMBIOTIC PLANTS : oaks, hornbeams, hazelnuts, pines.
清洗及儲存
Cleaning and storage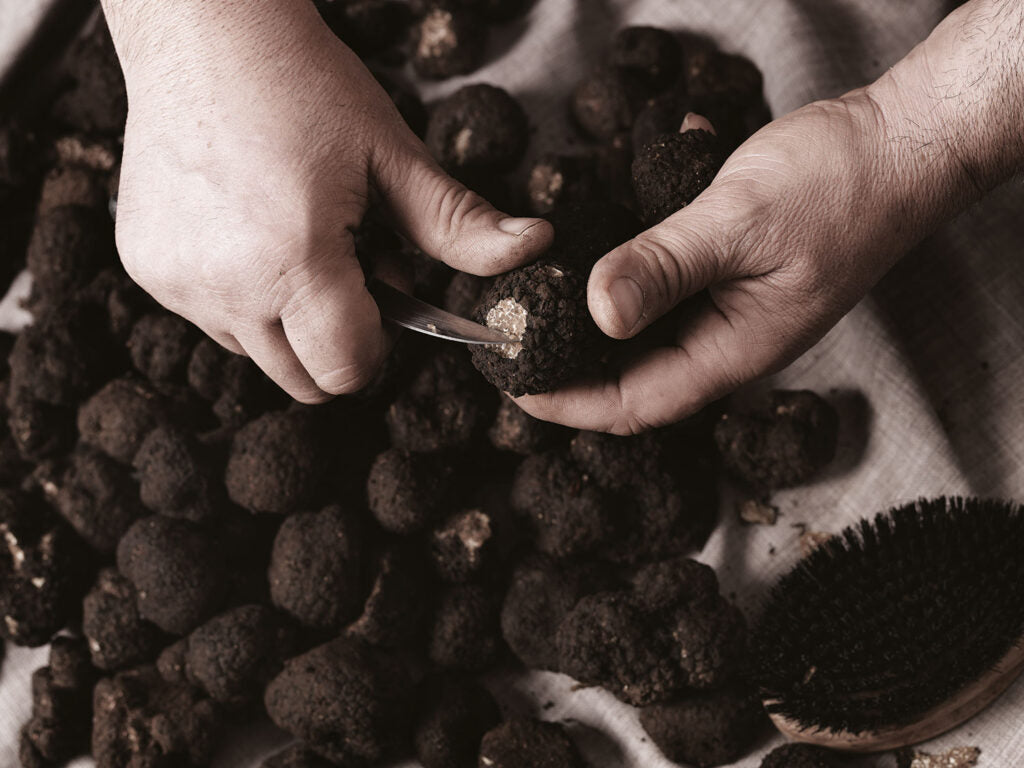 松露可以儲存在氷箱裡, 放在玻璃罐裡, 用吸水紙包起來(必須每天更換)。 白松露, 細黑松露和扁豆松露的最長存儲時間約為5/7天, 而夏季松露則可以達到10/15天。 建議僅在您決定使用松露時才清潔松露, 以免改变香氣及其新鮮度和緊緻度。 要清潔松露, 建議使用軟毛刷和少量水。 通過輕輕摩擦, 必須去除任何泥土殘留物, 如果松露有一些明顕腐爛區域, 建議使用刀将其去除。
The truffle can be stored in the refrigerator, inside a glass jar and wrapped in absorbent paper (which must be changed every day). The maximum storage time for white, fine black and bianchetto truffles is about 5/7 days, while the summer truffle can reach 10/15 days. It is advisable to clean the truffle only when you decide to use it , so as not to alter the aromas and its state of freshness and compactness. To clean the truffle it is recommended to use a soft bristle brush and a little water. By rubbing gently, any earthy residue must be eliminated and, in the event that the truffle has some areas with evident rotting, it is advisable to remove it with the use of a knife.
公司
The Company
使命
Tartufi Jimmy 致力於研發卓越的新産品, 以滿足日益苛刻的市場需求, 以經験和熱情傳遞這千年自然傳統的價值觀。
遠景
Tartufi Jimmy 的目標是想成為松露市場的標杆。
MISSION
Tartufi Jimmy is dedicated to the research and development of new products of excellence to dynamically satisfy the demands of an increasingly demanding market, transmitting the values ​​of this millenary and natural tradition with experience and passion.
VISION
Tartufi Jimmy's goal is to become a reference point in the truffle market.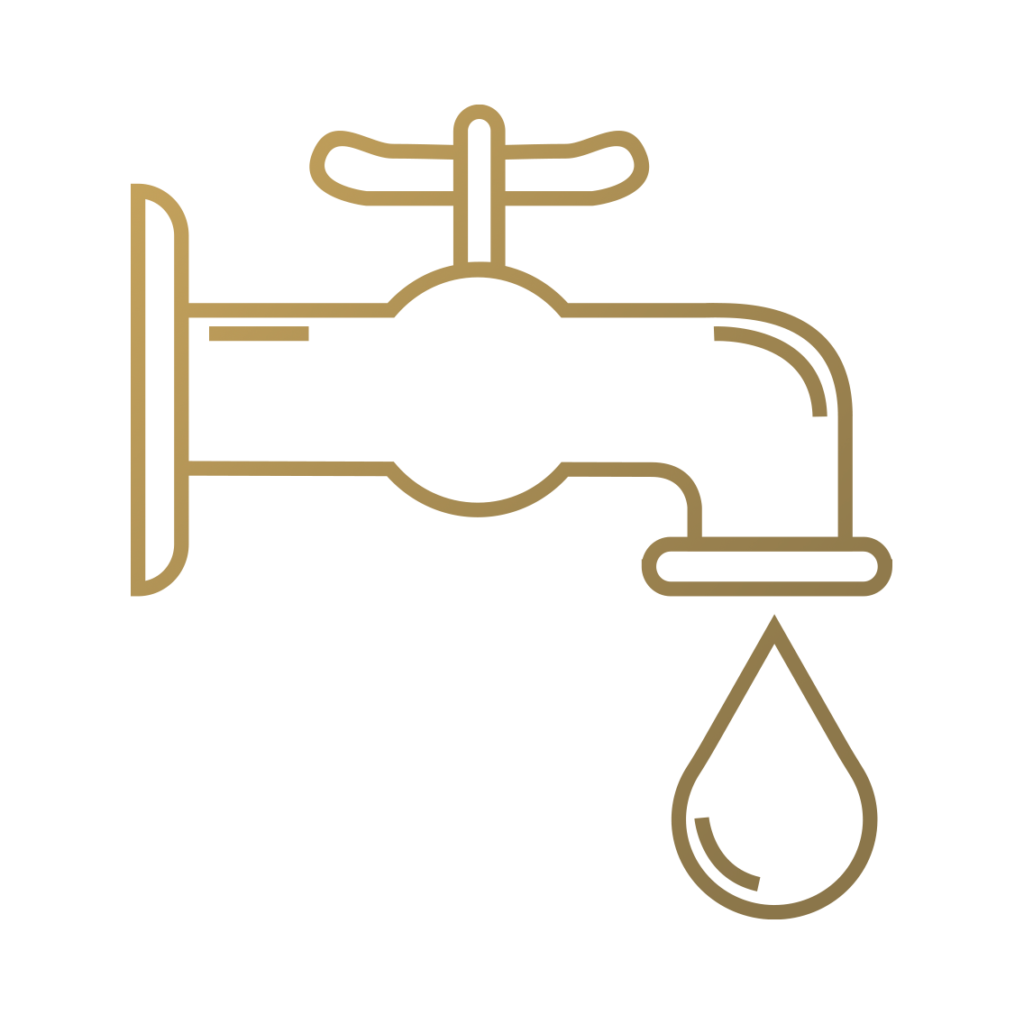 減少公共食水系的日常用水量
使用來自回收廠的浄化雨水
Reduction in daily use of water from the public aqueduct
Use of purified rainwater from a recovery plant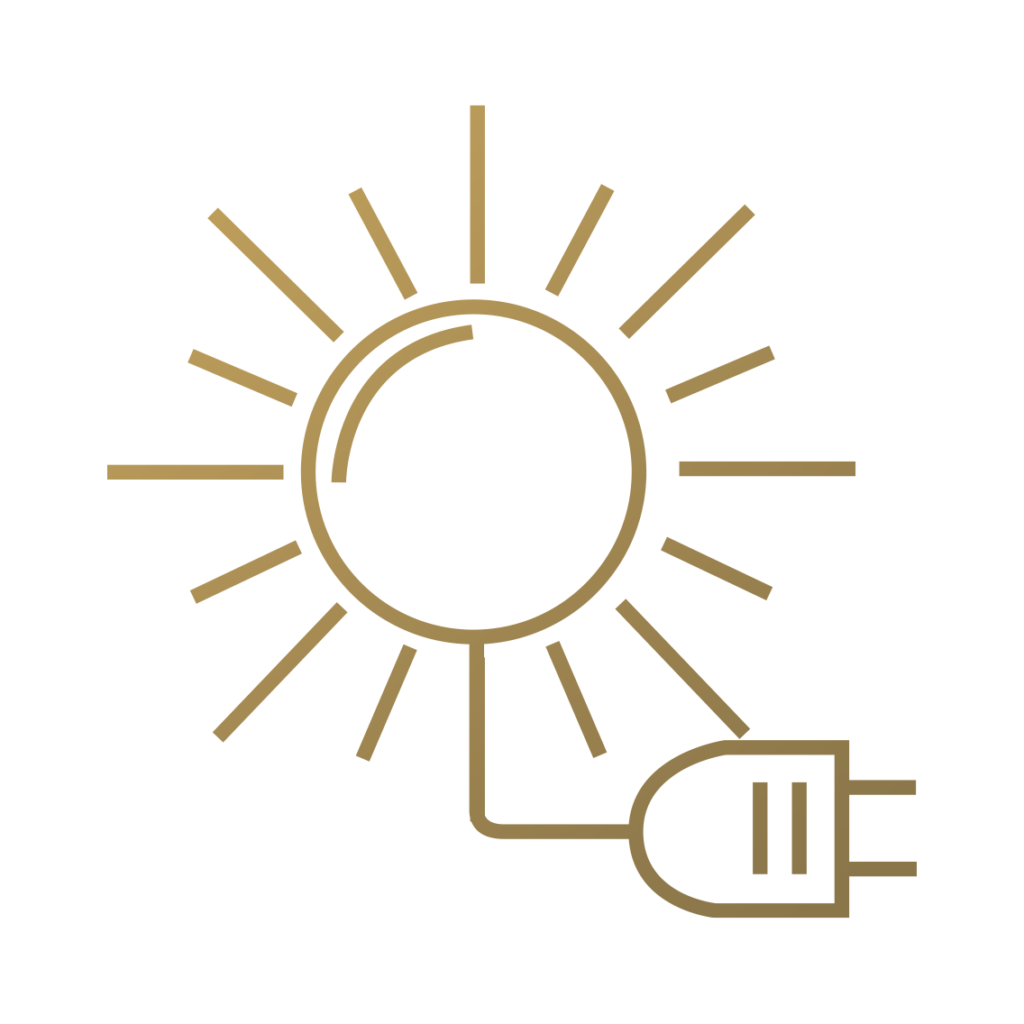 我們従73kW光伏系統生産清潔能源
我們使用低排放熱框架
我們的生産系統配備符合工業 4.0 標準的機器
We produce clean energy from a 73kW photovoltaic system
We use low-emission thermal frames
Our production system has machinery adapted to industry 4.0 standards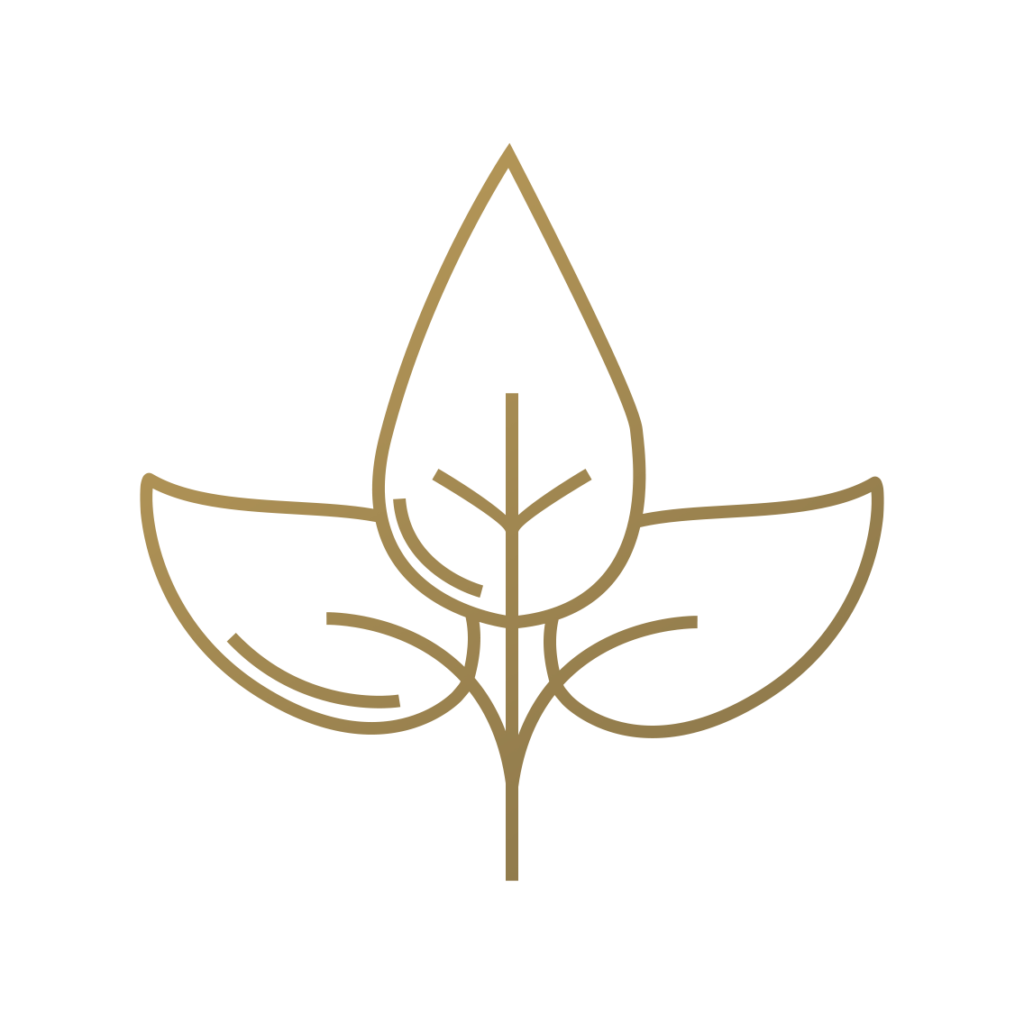 無塑承諾
減少使用原生塑料
我們90%的産品不含塑料
採用循環再用的卡板
Plastic Free Commitment
Reduction in the use of virgin plastic
90% of our products are plastic free
Pallets from circular economy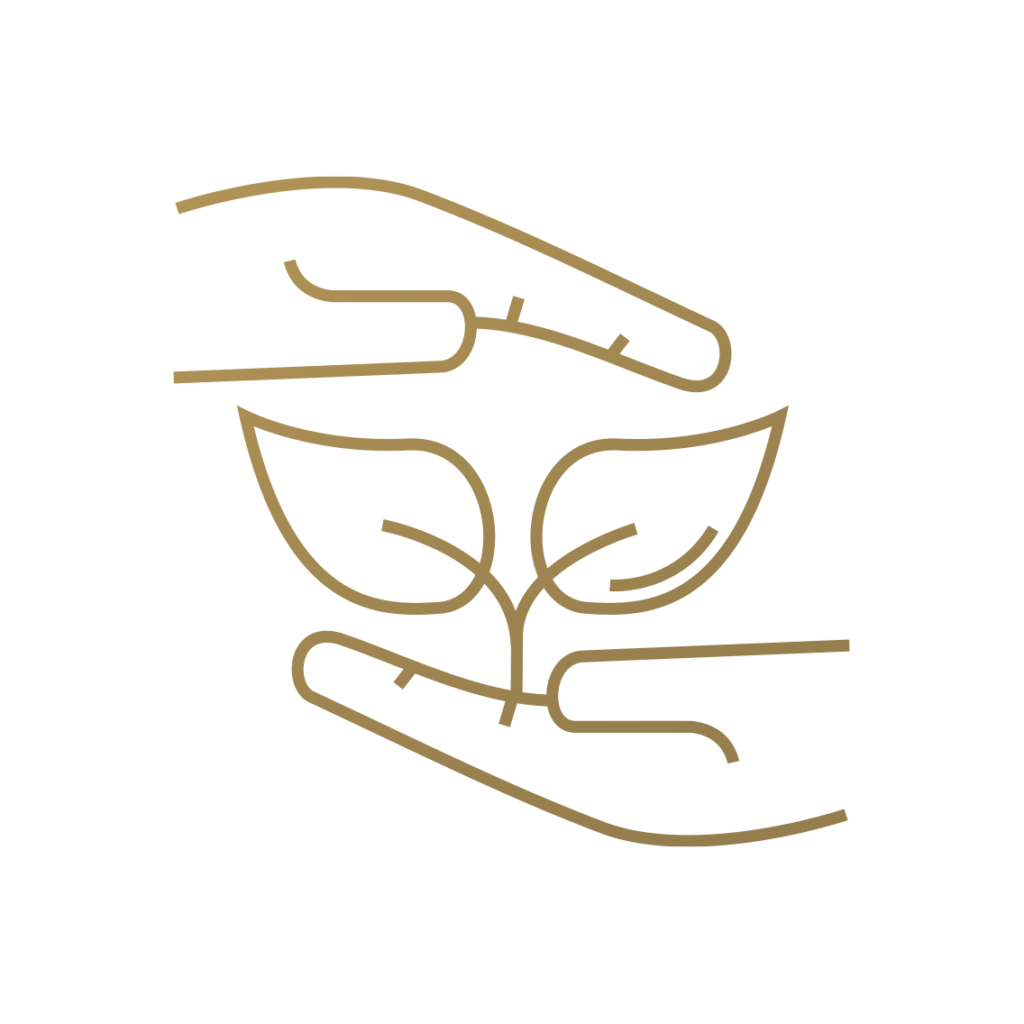 森林可持續發展承諾
根據 FSC 標準, 採用来自負責任管理森林的廢紙
Forest sustainability commitment
Used paper from responsibly managed forests according to FSC standards
歴史
History

公司誕生是基於喬瓦尼諾(Giovannino)想将松露研究和營銷的巨大熱情轉化為業務願望。1980 年 , 綽號"吉米"的喬瓦尼諾·切奇尼與妻子丹妮拉共同創立了Tartufi Jimmy公司。
早期, 公司的核心業務嚴格以新鮮松露的營銷為導向。喬瓦尼諾憑藉他的技能在意大利建立了一個由 400多名採接摘工組成的網絡, 這使他能夠在一年中的任何時候都擁有處於最佳狀態的新鮮松露。
多年来, 因應客戶要求, 促使公司投資興建實験室, 生産松露産品。這是一個関鍵時刻, 與國外的第一次接触開始了, 最重要的是長子安徳里亞(Andrea)加入了公司團隊。
The company was born from the desire of Giovannino, to transform the great passion for research and marketing of truffles into business. In 1980 Giovannino Cecchini known as "Jimmy" founded the Tartufi Jimmy company together with his wife Daniela .
In the very early periods, the company's core business is strictly oriented to the marketing of fresh truffles. Giovannino, thanks to his skills, cultivates a network of over 400 quarrymen throughout Italy and this allows him to have fresh truffles in the best condition at all times of the year.
Over the years, the request of customers leads the company to invest and create a laboratory to make preserved truffle products. This is a crucial moment, the first contacts with abroad begin and above all Andrea , the eldest son, joins the Tartufi Jimmy team.
在我很年輕時開始, 我的熱情越来越高漲, 直到我放棄固定工作去追求我的夢想
I started very young and over time the passion has increased until I give up the "fixed" job to pursue my dream
[JIMMY CECCHINI]
Tartufi Jimmy 的團隊充滿了美麗和新鮮的能量, 他們相信自己所做的事情, 提出新想法, 知道如何一起包容和協作。對我来說, 這是一個大家庭。
Tartufi Jimmy's team is full of beautiful and fresh energy, people who believe in what they do, who propose new ideas, who know how to compare and collaborate together. For me it is a big family.
[DANIELA]
安徳里亞最初致力於管理食品服務和生産渠道的銷售。由於他的足智多謀和意志, 喬瓦尼諾和丹妮拉決定投資安徳里亞, 非常相信他的願景, 並賦予他越来越多的責任。
憑著安徳里亞的遠見, 公司開始在國外的交易會上運送資源, 這使客戶数量呈指数增長, 因此公司各個部門的增長都比以往任何時候都要大。
Andrea initially dedicated himself to managing sales for the food service and production channel. Thanks to his resourcefulness and will, Giovannino and Daniela decide to invest in Andrea, believe a lot in his vision and entrust him with more and more responsibility.
With Andrea's vision, the company begins to convey resources in trade fairs abroad and this generates an exponential increase in customers, consequently an ever greater growth of the company in all its departments.
将我們的専業知識傳遞給分銷商, 零售商並最終傳遞給消費者至関重要。
It is essential that our know-how is transmitted to the distributor, to the retailer and finally to the consumer.
[ANDREA CECCHINI]
在成長最快的時刻, 家族第二個孩子切奇尼(Silvia)的加入公司, 填補了Cecchini家族在公司內部的缺失。 在第一階段切奇尼致力於與不同國家的外國的商業関係。 如今, 她的専業成長並在出口方面發揮著非常的作用, 實際上她是亞洲和中東市場的區域經理。
In the moment of greatest growth, the entry of Silvia , second child , completes the missing piece of the Cecchini family within the company. In the first phase Silvia dedicates herself to commercial relations with foreign countries following different countries. Today she has grown professionally and plays a very important role in exports, in fact she is the area manager of the Asian and Middle Eastern market .
我們的目標是将松鬆露帶到餐桌上, 従星級餐廳的美食到家庭美食。
Our goal is to bring truffles to all tables, from the cuisine of the starred restaurant to that of the home.
[SILVIA CECCHINI]