A truly natural and healthy snack made from local fruit, grown, picked and preparedby hand on our Kentish farm. A whole apple in every bar.
歡迎来到Perry Court農場
Perry Court Farm是英國最原始的乾果脆果皮製造商。農場位於肯特郡, 我們的天然健康水果零食都是従這裡人手種植、採摘和製作的新鮮水果所製成的。
我們用上了近200種蘋果、梨、草莓、藍莓和樹莓, 並将它們變成鬆脆的薯片和耐嚼的水果棒, 幾乎沒有食物炭足跡, 沒有浪費, 但有一些令人非常驚喜的味道!
Perry Court Farm是一家家族擁有和經營的農場企業, 位於肯特郡的North Downs。 經營活動包括種植幾乎所有類型的流行水果和蔬菜(以及一些稀有的水果和蔬菜)和可耕作物。還有一個大型農場商店, 花園中心和茶室, 當然還有水果烘乾業務。
水果和蔬菜種植佔農場的約300英畝, 以可持續方式種植, 而不是有機種植, 但實際上沒有農藥和少量無機肥料。 該農場能夠通過在小範圍內種植大量農作物並採用傳統的作物輪耕策略来生產高質量的産品, 這種方式比起商業單一農場, 對當地的環境和野生動物更有利。結果是顯而易見的, RSPB定期對農場進行調查, 發現我們農場的野生鳥類数量與其他國家存在巨大差異。 我們種植了無数種蘋果和梨, 其中大多数是超市貨架上不常見的傳統品種。
Welcome to Perry Court Farm
Perry Court Farm are the UK's original, and best, dried fruit crisp and fruit leather makers. These are natural and healthy snacks made from fresh fruit grown, picked and prepared by hand at Perry Court Farm, in Kent.
We make use of almost 200 varieties of apples, pears, strawberries, blueberries and raspberries and turn them into crunchy crisps and chewy fruit bars, with literally no food miles, no waste but some pretty amazing taste!
Perry Court Farm is a family owned and run farm business based in the North Downs of Kent. Activities include the growing of almost all types of popular fruits and vegetables (and some rarer ones too), and arable crops. There is also a large farm shop, garden centre and successful tearoom, and, of course, the fruit drying business.
Fruit and vegetable growing accounts for about 300 acres of the farm, it is grown in a sustainable way, not organically, but with virtually no pesticides and few inorganic fertilizers. The farm is able to do this by growing a huge array of crops in small areas and applying traditional crop rotation strategies to produce high quality products in a way that is much more beneficial for the local environment and wildlife than commercial monoculture farms. The results are visible, the RSPB regularly carries out surveys on the farm and finds huge differences in the numbers of wild birds on our farm to others. We grow countless varieties of apple and pear, most of them traditional heritage varieties that are not often seen on the supermarket shelf.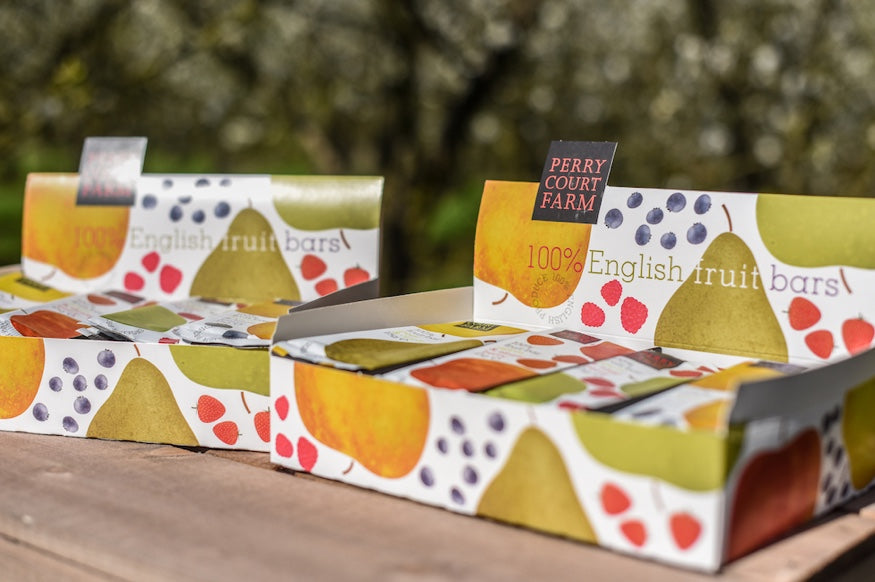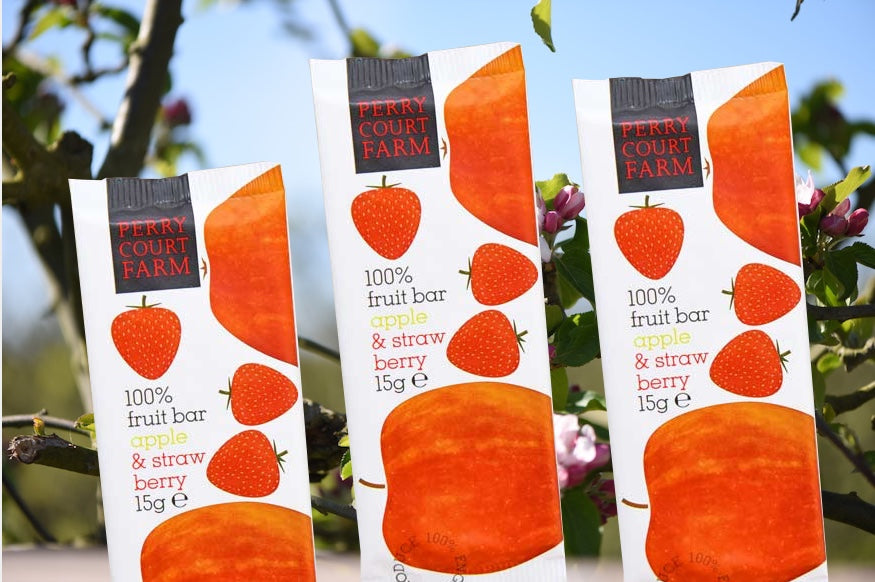 蘋果士多啤梨乾果條
本土蘋果和草莓的完美融合,味道像草莓醤,但只有水果中的天然糖。
APPLE STRAWBERRY FRUIT BAR
A perfect blend of homegrown apple and strawberries, tastes like strawberry jam but with only the naturally occurring sugars in the fruits. Nothing else.