根據香港法律,不得在業務過程中,向未成年人售賣或供應令人醺醉的酒類。
Under the law of Hong Kong, intoxicating liquor must not be sold or supplied to a minor in the course of business.
這款威士忌是壺式蒸餾和穀物威士忌的混合。 在氣味方面, 它散發出淡淡的花香, 並帶有辛辣木和甜味。 味道體現了辛辣, 堅果和香草的完美平衡, 帶有淡淡的雪利酒和卓越的柔滑感。
This is a blend of pot still and fine grain whiskies. On the noise, it has light floral fragrance, peppered with spicy wood and sweet notes. The taste exemplifies its perfect balance of spicy, nutty and vanilla notes with hints of sweet sherry and exceptional smoothness.
運送 Shipping
只送往香港本地
Hong Kong local delivery only
品牌 Brand
尊美醇 Jameson
原産地 Country of Origin
愛爾蘭 Ireland
酒廠 Winery
Irish Distillers
規格 Specification
類別
Type
混合威士忌 Blended Whiskey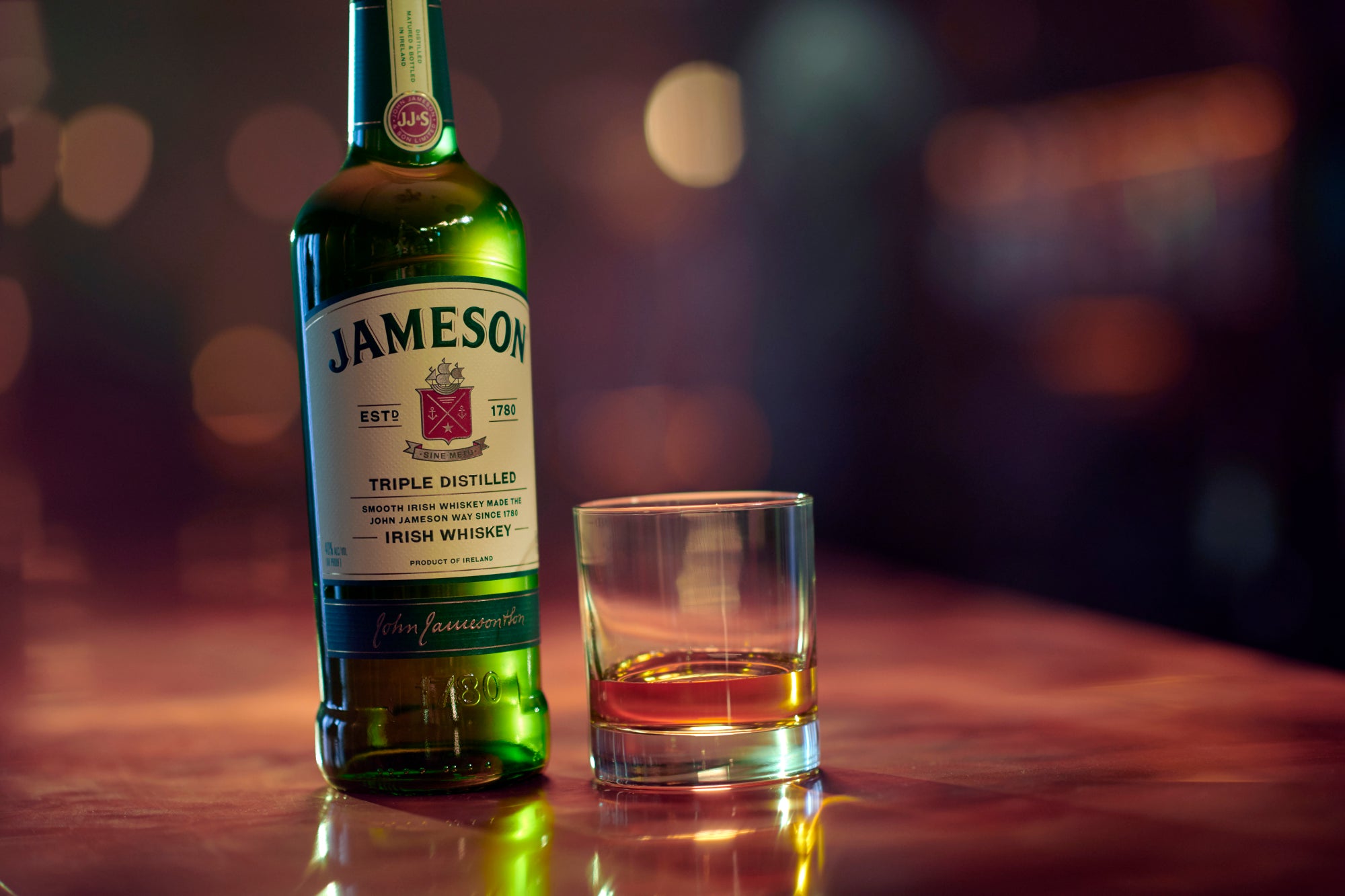 尊美醇愛爾蘭威士忌
Jameson Irish Whiskey
三次蒸餾, 兩倍滑順
Triple distilled, twice as smooth, one of a kind
尊美醇愛爾蘭威士忌是一款混合威士忌。首先, 我們獲取最好的壺式蒸餾和穀物威士忌。 然後, 我們對進行三重蒸餾-是因為達到其標誌性的平滑性。 最後, 将酒置於橡木桶中陳釀至少4年。
Jameson Irish Whiskey is a blended Irish whiskey. What's that we hear you say. Well first we take the best of pot still and fine grain whiskeys. Then we triple distil them - not because we have to because we want to as it gives it its signature smoothness. Finally, we age them in oak casks for a minimum of 4 years.

氣味 Nose
淡淡的花香, 帶辛辣木味和甜味。
A light floral fragrance, peppered with spicy wood and sweet notes.

味道 Taste
辛辣, 堅果和香草的味道完美平衡, 並帶有甜雪利酒和卓越的柔滑感。
The perfect balance of spicy, nutty and vanilla notes with hints of sweet sherry and exceptional smoothness.

口感 Finish
光滑圓潤
Smooth and mellow.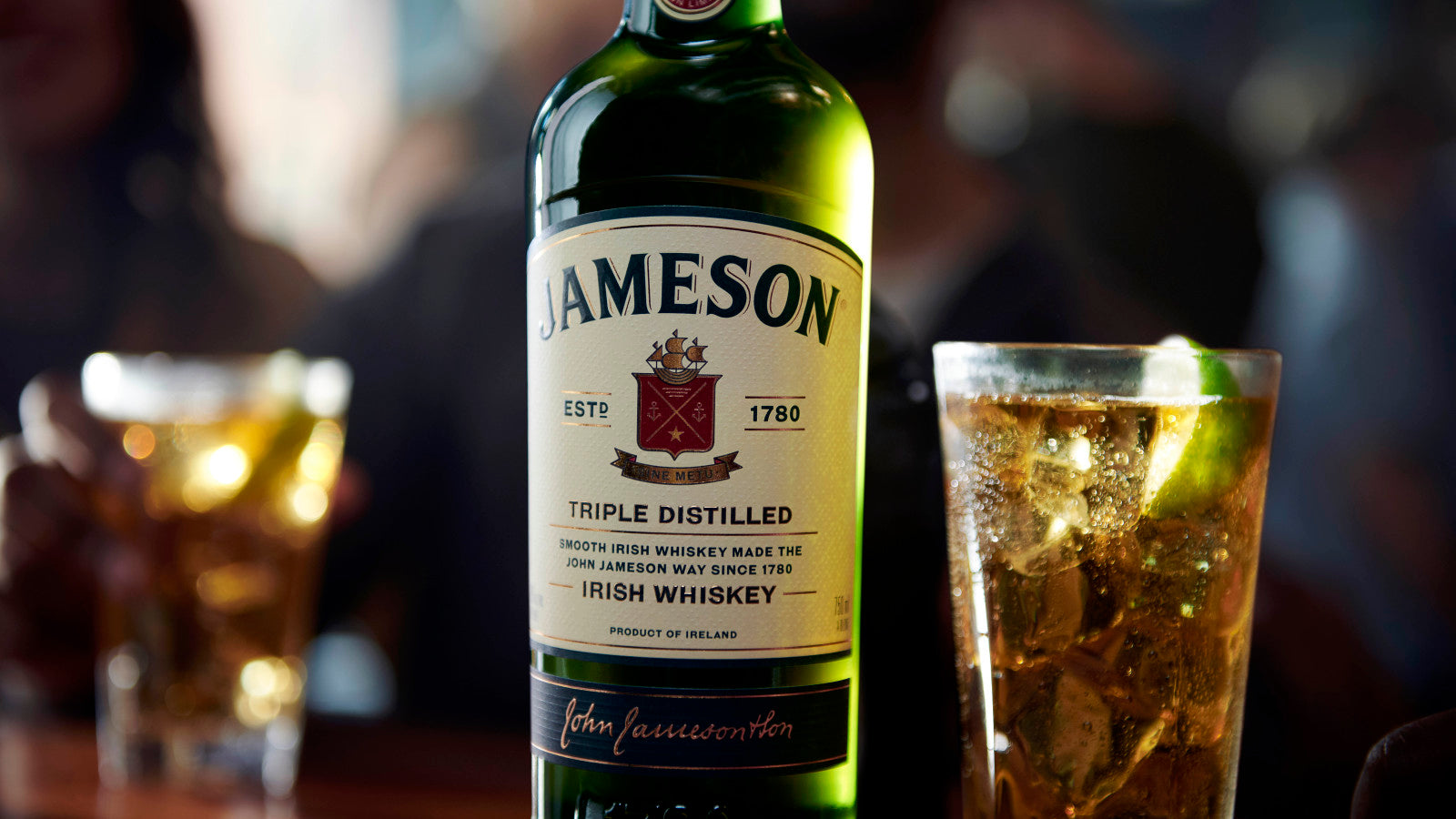 製作飲品
Drinks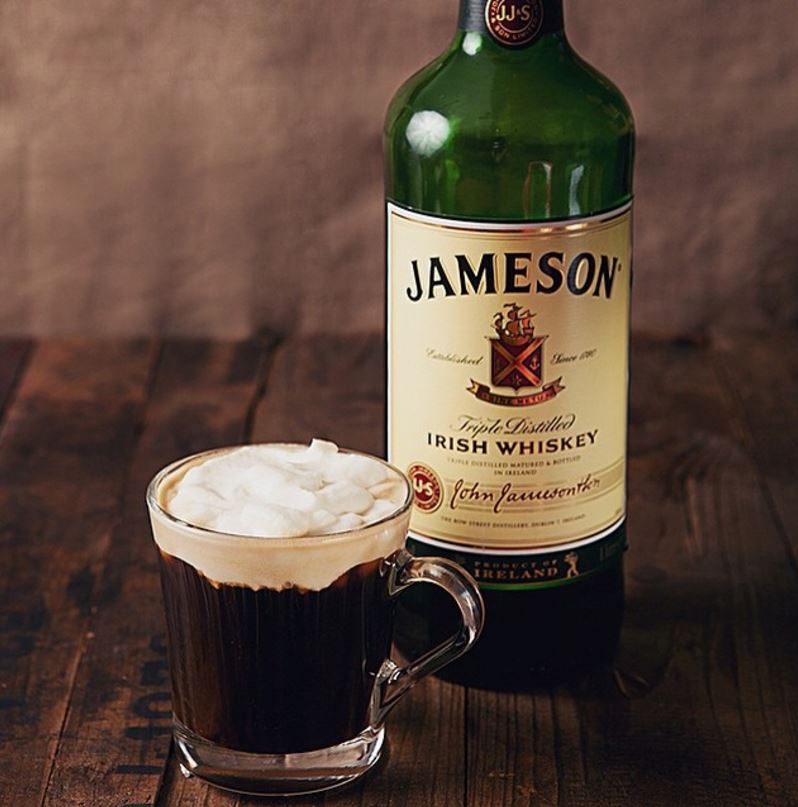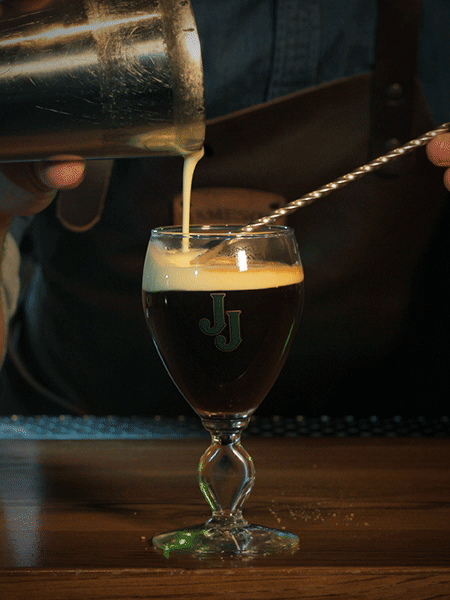 講到珈琲飲料, 最典型的愛爾蘭風味, 就是加幾滴尊美醇愛爾蘭威士忌(Jameson Irish Whiskey), 使寒冷的冬季夜晚更加愉悅。 無論您是什麼場合, 還是節慶, 愛爾蘭珈琲都是您的最佳選擇。
When it comes to coffee drinks, there's nothing more quintessentially Irish than adding in a little drop of Jameson Irish Whiskey to make a cold winter evening more enjoyable. Whether you're looking for something tasty on such an occasion or a special St. Patrick's Day cocktail to celebrate our national day, an Irish coffee is just the brew for you.
材料 Ingredients
---
10ml 紅糖和糖糖漿
Demerara and Muscovado sugar syrup
35ml 尊美醇愛爾蘭威士忌
Jameson Irish Whiskey
30ml 輕微打發高脂忌廉
lightly whipped double cream
90ml 中度烤意式濃縮珈琲
medium roasted espresso coffee
1 條呍呢嗱香草條或肉桂作裝飾
vanilla pod or cinnamon for garnish
新鮮磨砕的肉荳蔻
Fresh grated nutmeg
方法 How To Make
---
将2份紅糖和1份黑糖溶解在3份開水中作為糖漿。
Dissolve 2 parts Demerara sugar and 1 part Muscovado sugar in 3 parts of boiling water for the syrup.
在加熱的玻璃杯中将糖漿跟35毫升尊美醇攪拌均勻
Stir sugar syrup into 35ml Jameson in a warmed glass.
輕輕撥打30毫升冷凍的高脂忌廉直至到開始变硬。
Whip 30ml chilled double cream lightly until it starts to stiffen.
用意式濃縮珈琲機沖泡45毫升的珈琲, 然後倒入玻璃杯中。
Brew a 45ml shot of coffee into the glass from your espresso machine.
再次沖泡多45ml珈琲。
Reload and brew in a second 45ml shot.
将發好的忌廉倒沿著勺背倒進的珈琲中, 使其漂浮在頂部。
Pour the whipped cream into the coffee over the back of a spoon so it floats on top.
放上一枝呍呢嗱香草條或肉桂棒及灑上新鮮肉荳蔻作點綴。
Garnish with a trimmed vanilla pod or a stick of cinnamon and dust with a grating of fresh nutmeg.
我們的故事 Our story
尊美醇
愛爾蘭威士忌的故事
The Jameson
Whiskey Story
1780年, 約翰·詹姆森(John Jameson)建立了一種製作愛爾蘭威士忌的方法, 此後我們一直以此為榮。
如您所料, 生産已經沿用了兩個多世紀工藝的愛爾蘭混合威士忌需要很多時間講解。 但請放心, 我們将200多年的勇氣, 精湛工藝和對口味的集體欣賞濃縮到一個簡短的說明中。 因此, 這就是我們標誌性順滑口感背後的秘密 ─ 我們的流程和人員。
In 1780, John Jameson established a way of making Irish whiskey that we've been proudly sticking to ever since.
As you can imagine, producing a blended Irish whiskey that has been enjoyed for over two centuries, takes a lot. But don't worry, we've distilled over 200 years of courage, craft and a collective appreciation for taste, into one short account. So here's the secret behind our signature smoothness – our process and our people.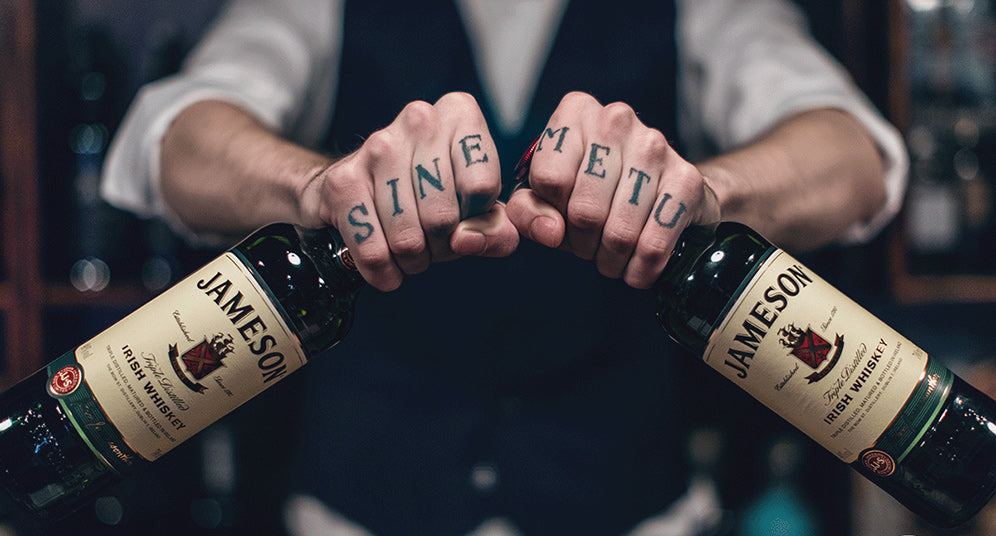 我們家族的座右銘: 無畏無懼(Sine Metu)
遵循著這一家族座右銘使我們能夠通渡過兩次世界大戰及愛爾蘭內戰以甚至美國的禁酒令。 它還幫助我們發現了新的可能性, 新的人和生産威士忌的新方法。 家族座右銘對我們意義重大, 因此我們自豪地将其展示在每瓶酒的正面。 這確保我們永不偏離家訓。
Our family motto, Sine Metu
Following this family motto ever since has allowed us to produce whiskey through two world wars, an Irish civil war and even American prohibition. It's also helped us discover new possibilities, new people and new ways of producing whiskey. The Jameson family motto means so much to us, that we proudly display it on the front of every bottle. Which is a handy way to ensure we never stray from it.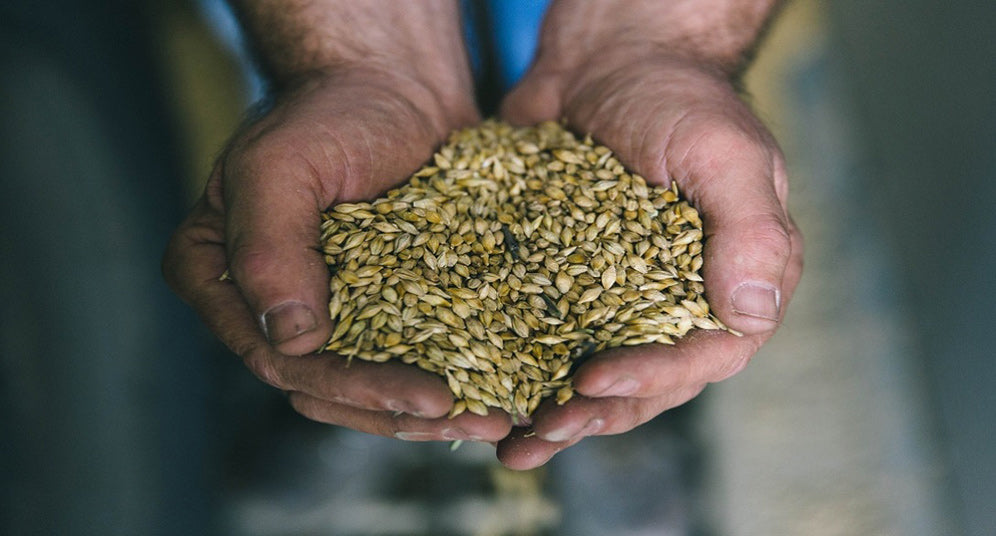 本地種植
尊美醇愛爾蘭威士忌是通過将由發芽和未發芽的大麦製成的濃郁壺式蒸餾威士忌與最優質的穀物威士忌混合製成的, 兩者均經過三重蒸餾以達到順滑度。
Locally grown
Jameson Irish Whiskey is made by blending rich pot still whiskey made from both malted and unmalted barley, with the finest grain whiskey, both distilled 3 times for smoothness.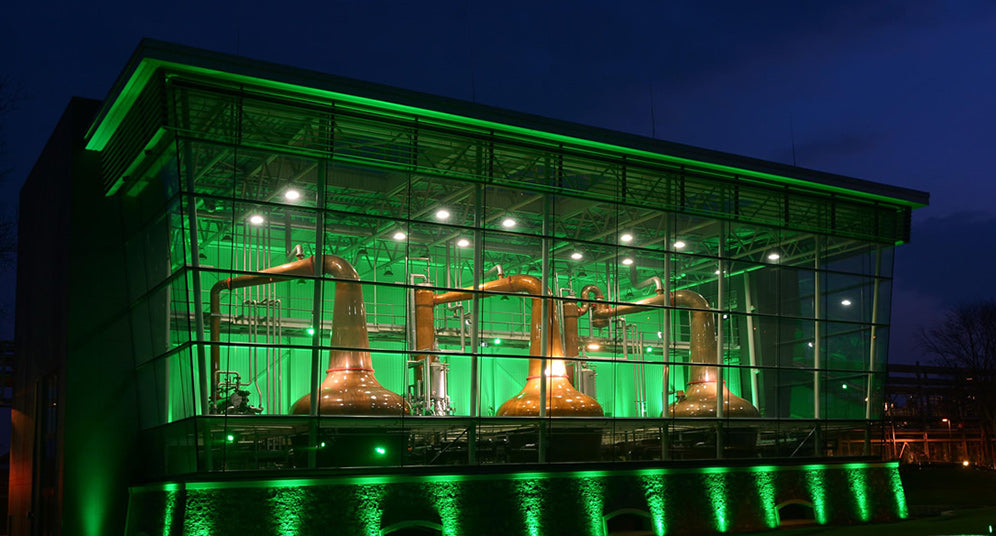 好事成三
忘了幸運数字七, 我們的順滑来自於我們的標誌性三重蒸餾工藝。 這是我們創始人約翰·詹姆森(John Jameson)所建立的方法, 也是我們首席蒸餾師Brian Nation至今所秉承的傳統。
好奇的人可能正在讀這個問題, 想知道四重蒸餾是否會更好。 好吧, 我們在早期進行了一些試験, 三是我們的魔幻数字, 所以我們一直堅持下去。
Good things come in threes
Forget lucky number seven, our smoothness comes from our signature triple distillation process. It's the method our founder John Jameson built his name on and the legacy our Head Distiller Brian Nation upholds to this day.
Inquisitive minds might be reading this wondering if quadruple distillation would be a step better. Well, we did some experimenting in our early years and the less said about that the better. No, three is our magic number and we're sticking with it.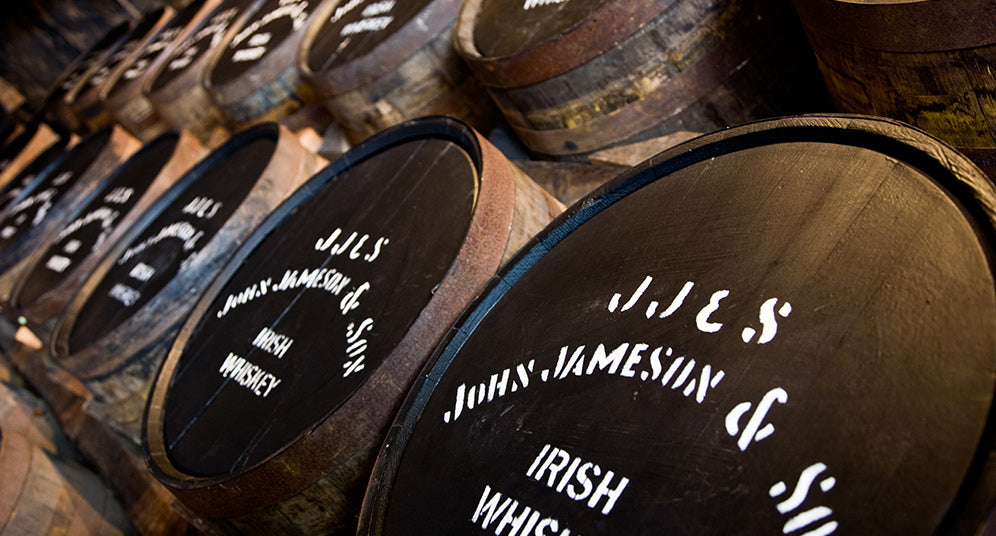 橡木桶陳化
尊美醇一直是很愛爾蘭, 但講到酒桶, 我們的主管庫栢·格·巴克利(Geoper Ger Buckley)還是要求助於我們在美國和西班牙的朋友来提供。
這些木桶前身是用於陳化波旁威士忌和烈性葡萄酒, 吸收了酒香, 随時可以将烤木, 香草和甜雪利酒個性賦予我們的威士忌。
那麼, 怎樣才稱得上是愛爾蘭威士忌呢?
好吧, 這有著一項相當嚴格的法律規定, 要稱得上愛爾蘭酒, 必須在愛爾蘭島上陳年至少三年的時間。
儘管我們的陳化負責人凱文·奧戈曼(Kevin O'Gorman)所制定的陳化時間長短會因應每個酒桶而不同, 但每年有2%的威士忌因蒸發而損失掉。 這就是所謂的天使分享, 經過230多年的發展, 我們已接受這個事實。
Oak aged
While Jameson is Irish through and through, our Head Cooper Ger Buckley turns to our friends in the United States and Spain to provide our casks.
Their previous life ageing bourbon and fortified wine, leaves them seasoned and ready to pass some of their toasted wood, vanilla and sweet sherry personality along to our whiskey.
So what allows Irish Whiskey to call itself Irish Whiskey?
Well, a pretty stringent law that states that a spirit must spend a minimum of three years maturing on the island of Ireland, to be lucky enough to be able to call itself Irish.
Although the length of time our Head of Maturation Kevin O'Gorman allows isn't the same for every cask, 2% of our whiskey is lost to evaporation every year. This is called the Angel's Share and after more than 230 years, we reckon it's their round.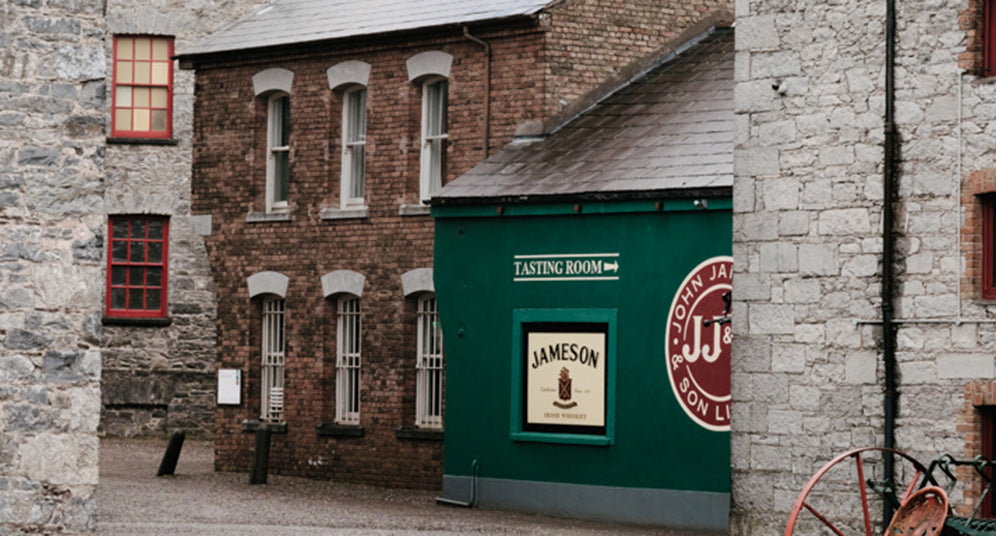 従穀物到酒杯
在尊美醇, 我們為經營一家單一的釀酒廠而感到自豪, 這意味著我們可以完全控制従穀物到酒杯的生産過程。
講到混合, 我們的混合主管Billy Leighton只使用在我們釀酒廠的釀製的威士忌。 因此, 我們能夠生産各種各樣的威士忌, 而無需敲開其他酒廠的門。 許多著名的品牌都採用来自多個釀酒廠的威士忌混合在一起, 因此我們並不是說我們的方式是最好, 這只是我們喜歡的方式。
Grain to glass
At Jameson, we are proud to run a single distillery, which means we have full control over the production process, from grain to glass.
When it comes time for blending, Head Blender Billy Leighton only uses whiskeys that were reared on the grounds of our distillery. As a result, we're able to produce a wide variety of different whiskeys, without having to knock on any other distillery doors. Many celebrated brands blend whiskey from multiple distilleries, so we're not suggesting our way is superior, it's just the way we like to do it.