Green&Blacks公平貿有機可可粉沖出令人上癮熱的朱古力。
用於烘焙方面也非常好, 可以将朱古力蛋糕变成一款豪華點心。
Green & Blacks Organic Cocoa Fair Trade makes an indulgent hot chocolate.
It is also fantastic in baking and can turn an already great chocolate cake into a luxurious treat. And as it's organic and fair trade, you can enjoy it guilt free!
運送 Shipping
只送往香港本地
Hong Kong local delivery only
成分 Ingredients
有機可可粉(97%), 酸度調節剤(碳酸鉀), 可可:按照公平貿易標准進行交易,總計97%。
Organic Cocoa Powder (97 %), Acidity Regulator (Potassium Carbonate), Cocoa: traded in compliance with Fairtrade Standards, total 97 %.
原産地 Country of Origin
英國 United Kingdom
品牌 Brand
Green & Black's

我們的可可粉採用經Fairtrade認證的可可豆製成,具有復雑的風味, 並經過鹸化處理. 以幫助增強濃郁的巧克力味。 理想的飲法是力加入一杯熱牛奶, 也可以用来製作出最好的蛋糕和甜點。
Made with Fairtrade certified cocoa beans, our cocoa powder has a complex flavour and is alkalised or 'Dutched' to help emphasize the robust chocolatey notes. Ideal with a cup of hot milk as a night-time drink and also makes the very best cakes and desserts.
道徳採購可可
ETHICALLY SOURCED COCOA

Green&Black's充滿激情, 致力於創造出符合道徳標準的美味朱古力。
Green & Black's is passionate about creating great tasting, ethically sourced chocolate.
我們的有機可可
OUR ORGANIC COLLECTION COCOA
我們的有機朱古力已通過公平貿易基金會認證。 我們很自豪地說, 1994年, Maya Gold是英國第一個被授予公平貿易標誌的朱古力。 朱古力的靈感来自伯利茲的瑪雅傳統可可和香料飲品。 為了捕捉這種味道, 我們把黑朱古力跟清爽的橙混合在一起, 再混合肉桂, 肉荳蔻和淡淡的香草, 達致完美平衡。
Our organic chocolate is certified by the Fairtrade Foundation. We are proud to say that in 1994 Maya Gold was the first chocolate in the UK to be awarded the Fairtrade mark. The bar was inspired by a traditional Mayan drink of cocoa and spice from Belize. To capture the taste of the bar, we blended dark chocolate with a refreshing twist of orange, perfectly balanced by the warmth of cinnamon, nutmeg and a hint of vanilla.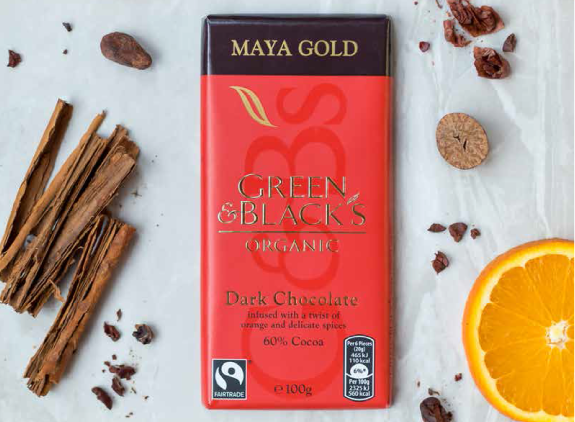 由可可豆到朱古力塊
FROM BEAN TO BAR

探索我們的朱古力製作
Discover how our chocolate is crafted
優質朱古力始於優質可可。 你可従我們的有機可可中的強烈果味, 以致新天鵝絨系列中的加納可可的光滑堅果特徵中體會到。
Great chocolate starts with great cocoa. Whether it's the intense fruitiness of our Organic cocoa, or the smooth, nutty character of our Ghanaian cocoa found in our new Velvet Edition collection.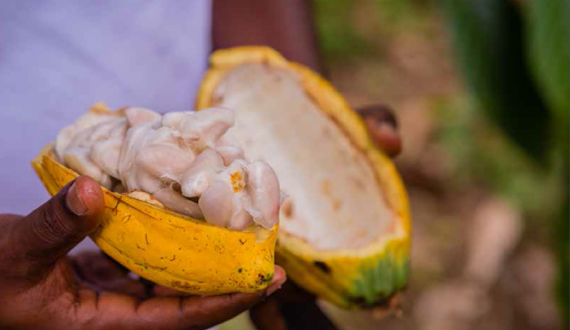 可可農場
ON THE COCOA FARM
農民徒手検查每棵可可樹, 只有在它們完全成熟時才能收割豆莢。 然後人手切開豆莢, 露出多汁的可可豆, 上面覆蓋著厚厚的白色可可果實; 従豆莢中取出並用香蕉葉覆蓋。 随著水果分解, 可可開始發酵,這是朱古力味的前身。 一周後, 洗浄可可豆並在陽光下乾燥, 然後再打包。
Farmers inspect each cacao tree by hand and only harvest the pods when they are fully ripe. The pods are then hand-cut open to reveal the juicy cocoa beans covered in a thick white cacao fruit; this is removed from the pod and covered with banana leaves. As the fruit breaks down the cocoa begins to ferment, which forms the first precursors of chocolate flavour. After a week, the beans are cleaned and dried in the sun, before being packed up.
由可可豆到朱古力塊
FROM BEAN TO BAR
可可豆粒被鎖在薄如紙的可可豆殼內, 我們将其輕輕烘培以散發出朱古力香氣。 然後, 将可可豆磨砕成濃稠的糊状, 釋放出所有風味。 如果我們要製作牛奶朱古力, 便會加入最幼細的糖和牛奶一起, 並継續精煉朱古力直到其至於舌頭上都察覺不到任何顆粒。 可可脂是可可豆粒中的天然油分, 可使朱古力具有光滑而奢華的質感。
Locked inside the paper-thin shell of cocoa beans are the cocoa nibs which we gently roast to bring out the chocolate aroma. We then grind down the nibs into a thick paste, releasing all the flavour. The finest sugar is added, along with milk if we are making milk chocolate, and continue to refine the chocolate until it's so smooth that none of the particles can be detected on the tongue. Cocoa butter is the natural oil found inside cocoa nibs and is added to give the chocolate its smooth luxurious texture.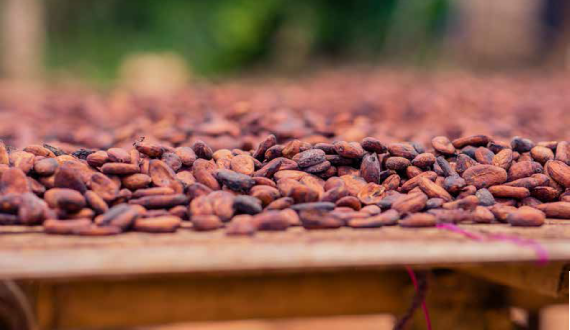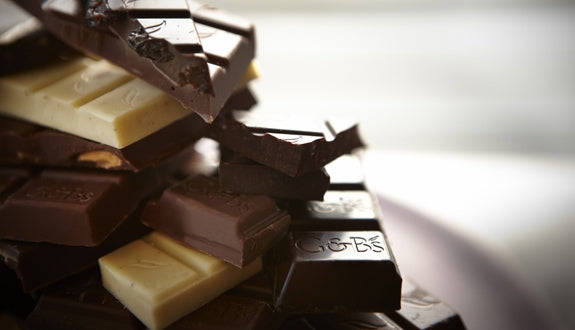 精心製作的朱古力
CAREFULLY CRAFTED CHOCOLATE
農民徒手検查每棵可可樹, 只有在它們完全成熟時才能收割豆莢。 然後人手切開豆莢, 露出多汁的可可豆, 上面覆蓋著厚厚的白色可可果實; 従豆莢中取出並用香蕉葉覆蓋。 随著水果分解, 可可開始發酵,這是朱古力味的前身。 一周後, 洗浄可可豆並在陽光下乾燥, 然後再打包。
Our freshly made chocolate is stirred for several hours until smooth, thick and shiny. We then 'temper' the chocolate, with a series of controlled temperature changes to ensure that the final chocolate will set with a beautiful glossy shine and perfect 'snap'. The luxurious chocolate is then carefully poured into moulds; ready for you to indulge yourself in a moment of pure chocolate pleasure.
我們的故事
OUR STORY
Green&Black's由夫妻團隊Craig Sams和Jo Fairley在波多貝羅路成立。 1991年, 花生供應商向克雷格(Craig)發送了一份朱古力樣版。 Jo發現朱古力樣版無人理會便立即食用。 她来來沒有嚐過像它這樣的味道, 並且肯定確定其他朱古力迷會有同感! 此後, 這對夫婦便開始製作美味的朱古力。
Green & Black's was founded on the Portobello Road by husband and wife team Craig Sams & Jo Fairley. In 1991 Craig was sent a sample of chocolate by a peanut supplier. Lifetime chocaholic Jo later discovered the chocolate unattended and promptly ate it. She'd never tasted anything quite like it and was sure other chocolate fanatics would feel the same! And with that, the couple began making delicious chocolate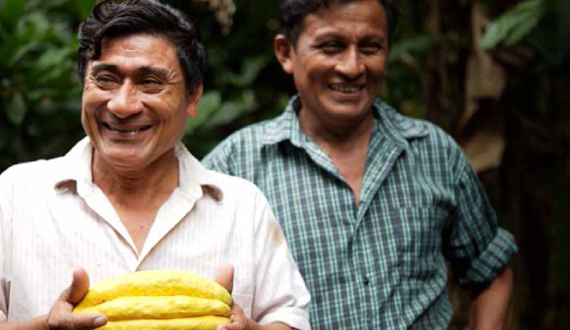 出乎意料之外, 沒有Mrs Green同Mr Black存在。 緑色象徵著我們對以道徳方式採購可可的承諾。 黑色代表我們朱古力的高品質和美味。
Contrary to popular belief, there is no Mrs Green or Mr Black. Green symbolises our commitment to ethically sourced cocoa. Black stands for the high quality and delicious taste of our chocolate.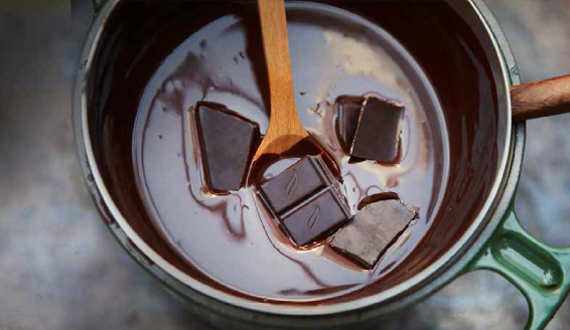 薪火相傳
NEW PEOPLE, SAME SPIRIT
自従第一塊朱古力以来, 我們就一直恪守Green&Black's的創立原則, 並自然而然地成為了一群熱衷於朱古力的人。 我們堅持不断創新, 啟發, 致使Green&Black's連續10年被CoolBrands評選為酷品牌。
Since that very first bar we've stayed true to the founding principles of Green & Black's and naturally become a devoted group of chocoholics. So much so that our constant desire to innovate, inspire and impress has seen Green & Black's voted as a cool brand for 10 consecutive years by CoolBrands