去核水浸青橄欖
Pitted green manzanilla olives
運送 Shipping
只送往香港本地
Hong Kong local delivery only
成分 Ingredients
橄欖, 水, 塩, 酸化剤(E-270)和抗氧化剤(E-300)
Olives, Water, Salt, acidulant(E-270) and antioxidant(E-300)
原産地 Country of Origin
西班牙 Spain
生産商 Manufacturer
ESCAMILLA

橄欖採摘過程 THE PROCESS

"Aceitunas Escamilla"按照傳統方法篩選橄欖:用人手逐個採篩選。 因此而們避了免果實損傷。我們在41,000平方米的地方布罝了大型先進裝置, 一旦果實收割後, 便開始清理, 去除樹枝, 樹葉, 篩走成熟果實(因為不能用作醃製)。清洗後, 橄欖用鹼性溶液處理, 以消除橄欖的苦澀味, 然後再經洗滌並放入塩水中進行後發酵和保存。完成這部分的過程後, 橄欖已經適合食用。 我們賣的橄欖産品有多種處理方法, 包括有核或無核, 饟餡, 醃製等。我們的包裝生産線每天處理超過350,000公斤, 提供玻璃瓶, 罐頭及或直立袋裝解包裝。
當青橄欖在成熟之前及達玫正常尺寸時便會被採摘。這些橄欖堅固, 健康, 並且可以抵受手指輕微的壓力。 除了天然色素, 果實表面沒有任何斑點。果實採摘後, 其顔色會従青緑色慢慢變為黃色。
At "Aceitunas Escamilla" we still pick our own olives following the traditional method: by hand, one at a time. Thus we avoid damage of the fruits. After harvesting we use the most modern technology in our 41,000 m2 big installations. Once we receive the fruits from the field, we start cleaning the olives removing any branches, leaves and mature fruits (which aren't of use for seasoning). We separate these elements using technological advances as our sorting machine, which can separate the green olives, used for seasoning, from the mature fruits which are used later on in a different process. After they have been cleaned, the olives are treated with an alkaline solution which extracts the bitterness of the olives and afterwards they are washed properly and placed into brine for posterior fermentation and conservation. Once finished this part of the process the olives could be consumed. At Escamilla we prepare them in different ways, with stones or stoneless, stuffed, seasoned, etc. Each day we process more than 350,000 kg in our packaging line, offering glass, tin or pouch solutions.
The green olives are picked before they are ripe and when they have a normal size. These olives are firm, sound and resist a slight pressure with the fingers. They don't have any spots than the ones due to their natural pigmentation. The color of the olive goes from green to yellow.
去核曼薩尼歐青橄欖
Pitted Green Manzanilla Olives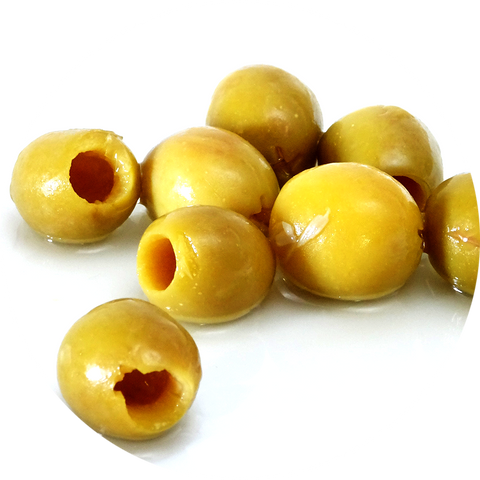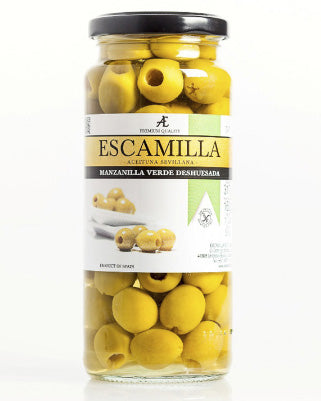 選用橄欖品種
VARIETY USED
曼薩尼歐 Manzanilla
由於曼薩尼歐橄欖的高量及高質量, 使其成為餐桌上最普遍的橄欖。 果肉和果核有的良好比例, 油份亦充足, 所以也適合搾取果油。 成熟果實, 呈現深紫色, 形状均勻對稱。
The most spread table olive over the world, thanks to its fruit's productivity and quality. It represents an excellent pulp/stone ratio and acceptable fat content if used for oil. The fruit, once ripe, is dark purple, spherical and symmetrical.

關於我們 About us
"我們是一家橄欖製品公司, 擁有悠久的傳統, 致力於桌上橄欖的生産, 醃製及包裝。"
"Is an Andalusian company which looks back on a large tradition dedicated to the production, seasoning and packaging of table olives."
1950
橄欖世家史的起點。 Juan Antonio Escamilla García 為Escamilla家族企業奠下基礎。
Is the starting point of a large family history related to table olives. Juan Antonio Escamilla García lays the foundations for "Aceitunas Escamilla".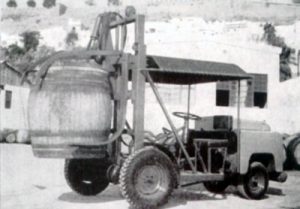 1982
家族企業創辦人的児子創立了Escamilla SAT 2080。
His sons found "Escamilla SAT 2080" under the management of Juan Antonio Escamilla, Antonio Escamilla and Francisco Arcos.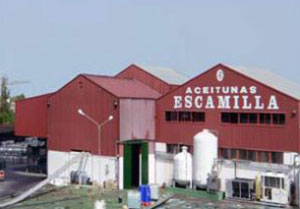 NOW
經過60多年的經驗, 第三代傳人也融入了業務, 在"Escamilla"橄欖得到廣泛認同的同時, 我們的特級初榨橄欖油也走向商品化。
我們的生産工廠周圍有1,600,000公頃的千年橄欖樹。
橄欖樹林是我們農業生産和商業活動的支柱。
After more than 60 years of experience, with the 3rd generation included in the family business, the "Escamilla" olives conquer the world. Furthermore, the production and commercialization of extra virgin olive oil is included in our assortment.
Our production plant is surrounded by 160 hectares of thousand year old olive trees.
The olive grove represents the pillar of our agricultural production and yet of our business activity.